Friends,
I'm really excited to tell you about the Firefox OS App Days we conducted at Kochi (Kerala, India) on 22nd June.
Short version:-
The event went better than we hoped for. 56 participants and 9 Mozillians attended. 14 apps were demoed. Had a remote session over video conf by Nick Desaulniers of Mozila Corp. Got 3 news paper coverages including one in a national daily. Succeeded in creating a hyper buzz about Mozilla in the state of Kerala. Getting lots of requests from colleges to conduct mini app days there – 2 mini app days already in motion.
Thanks, credits and acknowledgements: See Foreword and Acknowledgements at the end of this post.
(Jumbo version of the report is below the image)
Jumbo version:-
2. Our Primary goal
Despite being a state with over 30M in population, the Mozilla community's presence here was very low with just one event so far. So we wanted to make such a statement here that would send waves through the techie community here. And, in case you missed the event title, we wanted to introduce Firefox OS to the world here.
3. The Event
The event went far better than we hoped for. The event was hosted at Startup Village, a technology business incubator that is home to several startup companies. The venue is also the first place in India to get a 1Gbps internet connection in 2012.
Registration and breakfast started at 8.30AM. Sessions by Srikar, Nick and Jai followed. Lunch at noon. The hackathon session was in the afternoon, which continued until 5.30PM, followed by demos by developers. After the demos, a cake was cut to celebrate 15 years of Mozilla. The team that made the best app (a Japanese flower arrangement game) was invited to cut the cake. Followed by cake, snacks and drinks, around 20 tshirts were distributed to the people/teams that demoed apps.
We were expecting the new Firefox mascot to get ready by the time of this event, but unfortunately he couldn't come.
Feedback: From the feedback we got from the attendees,
100% told they were glad they attended and will be attending future Mozilla events.
90% rated the event either 4/5 (good) or 5/5 (awesome).
10% rated it as 3/5 (ok).
4. Participants
Our plan was to host the event with 50 participants. So our initial goal was to get around 150 registrations. But by the time we closed the registration, we had a total of around 450 people registered.
Out of the people registered, we handpicked mostly developers and sent out invites. Attendees were mostly developers, founders of tech startups, professionals and a few students. Among the professionals, we had two attendees from Sony's Asia Pacific software dev centre at Bangalore. As you probably know, Sony is a partner company that has committed to bring out Firefox OS smart phones and these two engineers were working on the Firefox OS team at Sony.
We had such a bunch of great attendees and I'm really glad about meeting them all.
5. Apps Made
14 apps were demoed at the end of the day. Some of the interesting ones were:
? an HTML5 implementation of a Japanese flower arrangement game
? a snake and ladder game
? a hangman game
? a wallet utility thingy
? a game for identifying similar items with pictures and sounds for autistic kids
? an app that would let us add a new note every time a call is received (by the Sony people)
There were a few other apps such as a BMI calculator, a news reader for Hacker News, a language translator, unit conversion apps, an event management program thingy, a couple of love calculators as usual <3 etc. I don't have links to any of these programs, as none of the programs were 100% complete and the apps were demoed directly in the simulator. So we have mailed the attendees to complete and polish the apps and submit them to the marketplace.
6. Attended Reps
The attended Reps/Mozillians were:-
Gautamraj
Jafar
Jai Pradeesh
Jayakumar
Midhun
Naresh
Saurabh
Srikar
Sujith
7. The super mega jumbo Firefox cake
3 Kilos of secure browsing 🙂 It was so delicious, I'm sure at least 2 Chromians converted to Mozillians instantly upon tasting it.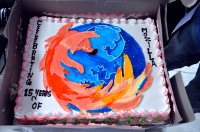 8. Metrics
(TL; DR – All metrics fulfilled)
? Metric #1: New Apps to Marketplace
» Success scenario #1: Getting 10 new apps developed and submitted to the marketplace?
» Result: 14 apps demoed at the event. Waiting for the participants to finish and upload them to the marketplace.
? Metric #2: Get new contributors to Mozilla
» Success scenario #2: Recruiting at least 10 new contributors to Mozilla. Get the contributors to signup through the tracking link http://mzl.la/14askk4
» Result: The link has 15+ signup count
? Metric #3: Boost the usage of Mozilla Products and awareness
» Success scenario #3: 75 to 100 percentage among the attendees and from there to other users
» Result: Most attendees said they use Firefox. Awareness, check. Usage, check.
? Metric #4: Make a strong foundation for Mozilla in the Kerala Locale
» Success scenario #4: This is the first major Mozilla event in Kerala. We are planning to conduct a series of the series of webmaker+app dev events in colleges across kerala. This event should create enough hype and momentum about Mozilla and its mission, so that we upcoming events have better adoption in the locale.
» Result: Succeeded in creating a wicked hype in Kerala. We have already been contacted by 4-5 engineering colleges to conduct mini app days there. Have already set plans for two mini app days in motion.
? Metric #5: Get the event featured in news paper
» Success scenario #5: Have the event featured in at least one main steam news paper
» Result: Got covered once in a national daily and twice in a regional language daily.
Readership of the national daily is 2.2M per day*
Readership of the regional language daily is 20M per day*
*From Wikipedia
Newspaper clippings:-
[News 1] – http://i.imgur.com/wly1MAq.jpg (Malayalam)
[News 2] – http://i.imgur.com/XH1KYdh.jpg (Malayalam)
[News 3] – http://i.imgur.com/aSpxzeQ.png (English)
The post event feature was featured in the front page on online version of the news paper for a week.
9. Photos
I have picked a couple of images below for quick look:-
The full set of images are here:
[Set 1] – flickr.com/photos/98095128@N03/sets/72157634357896718/
[Set 2] – plus.google.com/photos/109578479795240778075/albums/5894213640774392385?banner=pwa
0. Foreword
Despite its placement in this report, I wrote this foreword first. The sole purpose of this section is to credit the *one* person without whom this event wouldn't have happened – Midhun (@midhun__manoj). Whether you decide to congratulate me for anything or to blame me for anything; this guy deserves an equal share. If I thank him for the event's success, it will be a total insult, because it was his effort as much as it was mine (it just happened to be my name in the event owner field in reps portal, which is just a technicality and irrelevant AFAIC)
1. Acknowledgements
Me and Midhun have a lot of people to thank for the success of the event. (Listed in alphabetic order)
Abhishek Potnis
Abhishek helped us in the initial stages when we kicked off the online campaign. He helped with the registration pages and stuff, which we are really thankful for.
Galaxy Kadiyala
Galaxy helped us getting the app days tshirts ready and delivered in time.
Jafar Muhammed
He designed the attendee identity cards and helped us with everything including answering queries through our fb page and group and great help during his time at Kochi.
Jai Pradeesh #PrawnBiriyani
Jai took a great session on Firefox OS development and won the heart of the audience. I hear that he is getting 100s of friend requests everyday now.
Jayakumar Sadhasivam
Jayakumar took a lot of photos that we uploaded and was great help at the venue. He was also the one person who attended all our online planning meetings without fail.
Naresh "Hauntin" Kumar, the Hacker
The first of the outer state reps to arrive at Kochi. He helped with everything when he was at Kochi. He kept complaining about my English, so I tried to poison him using #PrawnBiriyani, but it backfired on someone else.
Srikar Ananthula
Srikar took a really nice session about WebFWD.
Sujith Reddy
Sujith treated the event as his own and extended all the help he could. His contributions are so many, including printing the banners, bringing swags, taking photos etc.