Yesterday my friend sent me a link to a video in his site. I saw the video as streaming and I liked it. I just wanted to keep a copy of it in my collection. So as usual I went to keepvid, my favourite YouTube grabber site. But I couldn't download the video because the site was not supported. Well these grabber sites do not support the majority of the streaming video sites, coz they are so many of them using different encoding  methods. It was then I thought of it – prior to playing the file, firefox (or any other browser) keeps a copy of the video in its local cache. So I googled to see if there is an option to save cached files, and came up with these..
Tool: Go to http://www.nirsoft.net/utils/video_cache_view.html, there you can download 'Download VideoCacheView'. This tool will allow you to see all flv videos in your cache..Remember again – you can browse only flv videos using this tool. It is a freeware.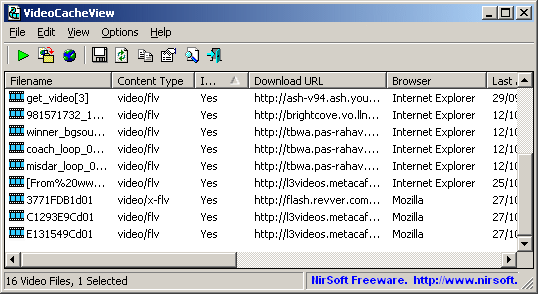 Or click here to download the file directly.
Trick: Ok here is a neat trick to save any file from your cache. If you are using firefox, in the address type about:cache and hit enter. The resultant page will display various information about your cache. On that page click on the link List Cache Entries, and you will get a detailed list of all files that are currently in firefox cache. If you want to save any of those files just browse to the cache folder – it is given at the bottom of the first page (about:cache). It looks something like this 'C:\Documents and Settings\copzz\Local Settings\Application Data\Mozilla\Firefox\Profiles\j1l44nro.default\OfflineCache'. Now browse to this folder and copy and save the file you need into another location and change its extention to whatever it is, like .jpg .flv etc.
And you are done. Happy caching.