[updated: December 2012]
Complete anonymity is not possible on the internet. Tor is the next best thing available. Tor is one of the best privacy softwares available. Tor is recommended by EFF, who is the biggest advocate of online privacy. TorButton will make it easy to make firefox use Tor. Though it is the best for privacy online, configuring Tor may be a bit of a pain for first timers. If you install Tor, it will install the TorButton Firefox addon also. To download Tor, visit the Tor website.
If Tor is the king of privacy, then NoScript is the king of security. NoScript protects you by blocking unauthorized sites from running scripts and programs in your computer. NoScript offers protection against cross site scripting attacks, router hacking, click jacking etc. NoScript is very much recommended, no matter you are a newbie or an experienced user.
WOT provides you information regarding websites' trustworthiness based on ratings provided by a global community of users. Users rate websites based on their experiences, so you can know if you can trust a site before entering it. WOT will warn you about sites with low reputation (read it as dangerous websites) and hence will protect you from scams, phishing sites etc
Proxies are the easiest means to get basic anonymity on the web. By using a proxy, you can hide your IP address and thereby your exact physical location from the websites you visit. FoxyProxy will make firefox access sites through proxies, hence hiding information about you. FoxyProxy has advanced features and newbies may find it a lil complex. In that case, you can use Proxilla, which is relatively easy to use.
The tracking ability of normal cookies is low. So internet marketing and research groups have come up with a more persistent way to track users – Flash Cookies (aka LSO's). Flash cookies offer more storage – 100 kb, as opposed to the 4 kb offered by normal cookies – and can't be removed as easily as normal cookies. An alarmingly large number of websites now use flash cookies to track users. BetterPrivacy can protect you from flash cookies.
It is not safe to use the same password with multiple sites. But keeping track of different complex passwords for different sites is difficult. Here is where password managers come to rescue us. Password managers can store login information securely and can make it easily and securely accessible for us. Roboform password manager offers everything you need – easy access, encrypted storage, form filling etc.
Secure Login is another powerful password manager offering lot of useful features and stuff.
Enigform protects our data and traffic by digitally signing our HTTP requests (including AJAX calls). The technique used is pretty impressive. It brings OpenPGP signing and encryption to HTTP traffic. Please keep in mind that Enigform can work its magic only if the website you are visiting runs on a mod_openpgp enabled Apache web server.
Are you logged into your email account and some other important websites and need to open a suspicious looking site. Doing that may compromise the your important accounts. Then CookieSwap is for you. This addon will let you switch your firefox's profile, hence hiding the active cookies. This addon can also be used for signing into multiple gmail/yahoo accounts at the same time. This is a very useful addon which I previously reviewed here among 25 Incredibly Useful and Cool Firefox Addons for Geeks and Web Developers.
Every single website you visit is tracking you. They are spying you to know your personal details such as browsing habits, interests and even sexual orientation. With Ghostery, you can see who is tracking can learn more about them, such as their privacy policy etc. Ghostery also makes it easy to block tracking codes and cookies from sites of your choice.
This addon can close the current tab and forget everything about the visit. Close'n forget will delete the cookies, history and every information about that site. (This addon MAY not clear all the data about your visit. Please check if it is working as it should before you try something serious)
Now we come across shortened links every day in our life. Almost every link posted in twitter and email newsletters are now cloaked by some sort of a URL shortening service. It is really REALLY important to know where a URL is taking you before you click it. One normal looking wrong link can devastate you. The LongURL addon can find where shortened links take you. So be sure before you clink. (This addon don't work with the latest version of firefox yet)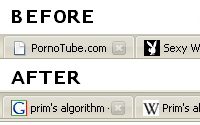 People always just love to watch over our shoulders and read the titles of our opened tabs. TabRenamizer is the solution against such prying eyes. With one click, you can rename your tab titles to something more.. serene.
Fission is not exactly a security or privacy addon. But it makes it easy for us to spot the domain name from the URL. Scammes and phishers (bad people) use URL's closely matching to genuine ones to carry our phishing attacks. They may create a fake gmail login page at some location like www.google.com-accountLogin.some-domain-name.com. Such addresses are easy and inexpensive to create. Unsuspecting users may read only the www.google.com in front of the URL and type in their username and password thinking that it is the legitimate site.
I have stated the importance of taking notice of the address bar in a previous article – 7 Points to Stay Safe in the Social Web.
The Fission addon can highlight the actual root domain, making it easy to recognize fake URL's. See below how the fake URL is easily spottable with Fission enabled.

So have you used any of these addons? Do you know or recommend any other security/privacy addon? Please share your knowledge with others through the comments.
HTTPS Everywhere is a useful addon developed by the Electronic Frontier Foundation, the leading digital privacy advocacy group. This addon will enable secure connection when you connect to popular websites (if the sites actually support it). A version of this addon for Google Chrome browser also is available at the above link.
Lighter Side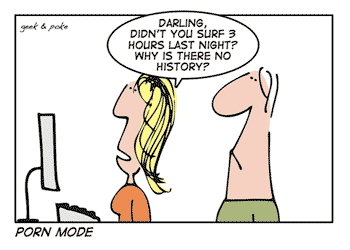 Image Source: Geek and Poke